"E Komo Mai...
Welcome to Crackseed, etc."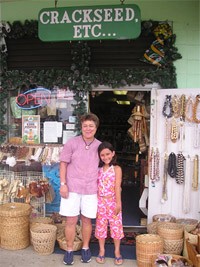 Thank you for visiting Crackseedetc.com where our goal is to provide you with easy access to some of the best mouth watering Hawaiian Style Seeds and Oriental Preserves found anywhere. We actively search throughout the Orient and Pacific for the best quality Seeds, Arare, Local Candies and hand made crafts and gifts to offer our customers.

Now you can have the same seeds and candies mailed to you today! Shop in our Online Store and sample our many Ono New Flavors or stick with your "Old Time Favorites", or maybe get a little of each!

Whatever you order, you should get some dental insurance because these local Hawaiian treats are going to "broke da mouth!"

Feel free to fax, email, or call and talk story. Thank you for visiting, and enjoy.